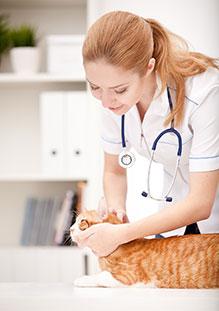 Services

Wellness Care: Comprehensive physical exam and consultation with emphasis on preventive medicine and client education in areas including but not limited to nutrition, parasite detection and prevention, vaccination and disease prevention.


Diagnostic Laboratory Testing: Bellport Animal Hospital has partnered with Antech Diagnostics to provide state of the art diagnostic testing from the premier veterinary laboratory in the country. In addition, we routinely submit samples for specialized testing to multiple Veterinary Colleges throughout the United States.



Diagnostic Imaging:




X-Rays: Bellport Animal Hospital has made the switch from standard developed film x-rays to high detail digital radiology. This advanced imaging technique provides x-rays that are far superior in quality compared to the older technique. We routinely perform hip radiographs for submission to the Orthopedic Foundation for Animals (OFA) and/or for submission for PennHip (www.pennhip.com) evaluation. In addition, we have board certified veterinary radiologists available for consultation.
​
Diagnostic Ultrasound: We have an ultrasound unit to provide services such as abdominal imaging, ultrasound guided biopsy, pericadriocentesis and pregnancy diagnosis. In addition we have a board certified cardiologist who performs cardiac ultrasound exams (echocardiograms) at our hospital for a few days each month.



Medical Care: Bellport provides full service hospitalization and medical care for any illness that may arise. We have the ability to consult with specialists in all fields of veterinary medicine to provide your pet with the best medical care possible.


Surgical Services: Bellport offers a wide range of surgical services from routine spay/neuter to advanced soft tissue and orthopedic surgery. We can set up consultations and procedures with a veterinary surgical specialist for any pet requiring such surgical care.


Reproductive Services and Neonatal Care: Bellport is a member of Synbiotic's (www.synbiotics.com) reproductive network. We perform services such as breeding timing, semen evaluation, artificial insemination, surgical flapping, subgingival antibiotic therapy, and dental (porphyromonas) vaccination.
​

Bellport is involved in new cutting edge therapies such as being certified to perform adult stem cell transplant (www.vetstem.com) for certain disorders not responsive to traditional medical or surgical therapy. We are able to provide veterinary consultation in herbal and other non-traditional alternative therapies.